Best love proposal quotes and sayings for a perfect proposal with beautiful images(caption, pictures). If you are going to purpose to someone, but you need the right words and good magic lines for him then these propose day quotes will help you to seize the romance of the magical moment.
Proposing the love of your life first time with Perfection is very difficult. You need to gather all your feelings and encouragement. Proposing love to your life can be a little bit scary and we are not blessed with the heart of a poet.
You can borrow words from different famous authors or poets. It's perfectly fine and acceptable to use others' words to propose but your feelings should be original.
Try these love proposal quotes and proposal messages for yourself and let the magic of love unfold! Share with whom you want to propose for marriage. You can use it as a WhatsApp status also.
---
Romantic
Proposal Q

uotes

"Grow old along with me, the best is yet to be." Robert Browning

"Love is the master key that opens the gates of happiness." Oliver Wendell Holmes

"I would rather spend one lifetime with you, than face all the ages of this world alone." R. R. Tolkien's
"For you see, each day I love you more – today more than yesterday and less than tomorrow." Rosemonde Gerard
"Loving you has made me become a better person. I want to grow old with you. Happy Propose day!"
"I ask you to pass through life at my side—to be my second self, and best earthly companion." Charlotte Brontë, Jane Eyre
"Love doesn't make the world go 'round. Love is what makes the ride worthwhile." Franklin P. Jones
"You know you're in love when you don't want to fall asleep because reality is finally better than your dreams." Seuss
"All love that has no friendship for its base, is like a mansion built upon the sand." Ella Wheeler Wilcox8
"We find rest in those we love, and we provide a resting place in ourselves for those who love us." Saint Bernard of Clairvaux
"When you realize you want to spend the rest of your life with somebody, you want the rest of your life to start as soon as possible." – When Harry Met Sally
"Being deeply loved by someone gives you strength while loving someone deeply gives you courage." Lao Tzu
"Love is an irresistible desire to be irresistibly desired" Robert Frost
"What greater thing is there for two human souls to feel that they are joined… to strengthen each other… to be at one with each other in silent unspeakable memories." George Eliot
---
Love Proposal Quotes For Girlfriend

(GF)

"Love recognizes no barriers. It jumps hurdles, leaps fences, penetrates walls to arrive at its destination full of hope." ~Maya Angelou

"I would love for you to grow old with me! The best is yet to be and it begins from the moment you say yes!"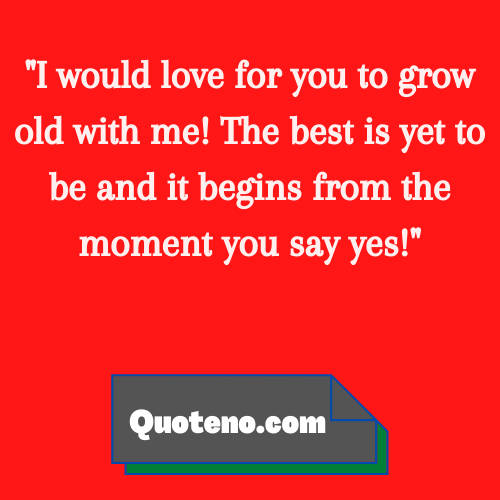 "Only you, you're the only thing I'll see forever. In my eyes, in my words, and in everything I do, your sight is the only sight that will ever bring me peace!"
"You are sunlight through a window, which I stand in, warmed. My darling." – Jessie Burton in The Miniaturist
"Found the reason for my smile, the day I found you. Will you let me be the reason for your smile?"
"You are my North, my South, my East and West, the sun of my morning and the night to my day!"
"You come to love not by finding the perfect person, but by seeing an imperfect person perfectly." Sam Keen
"In you, my life becomes whole, with you my days become bright. In your hands I would love to lay, this night and for the rest of my life!"
"You deserve the world and all the good things it has to offer. If I fail to find that world for you, I promise to give you mine!"
"'Cause when you smile, the whole world stops and stares for a while. Cause girl you're amazing, just the way you are!" – Just The Way You Are by Bruno Mars
"Do you believe in destiny? That even the powers of time can be altered for a single purpose? That the luckiest man who walks on this earth is the one who finds… true love?" Bram Stoker, Dracula
---
Romantic Proposal Lines For C

rush

"I love you not only for what you are but for what I am when I am with you." Elizabeth Barrett Browning

"I want the fairytale and you're my prince. Let's complete the kingdom though. Let me be your queen and say yes to the next question, pretty please. Will you marry me?"

"You are the one I wanted to find, to tell that I need you all my life, from this day on till the rest of my life."
"The heart wants what it wants. There's no logic to these things. You meet someone and you fall in love and that's that."  Woody Allen
"You are my best friend, my shoulder to lean on, the one person I know I can count on; you're the love of my life, you're my one and only, you're my everything."
"Find the person who will love you because of your differences and not in spite of them and you have found a lover for life." Leo Buscaglia
"In the arithmetic of love, one plus one equals everything, and two minus one equals nothing." Mignon McLaughlin
---
Heart Touching Love Proposal Quotes For Marriage
"I am opening an emotional bank account for you sweetheart. So deposit your love in it and you will get the interest. Be mine! Happy Propose Day!" – Anonymous
"I knew I'd marry you within the first few weeks of our relationship. It was just a matter of time before I asked you this formally. Will you marry me, princess?"
"I love you, not only for what you are but for what I am when I am with you. I love you, not only for what you have made of yourself but for what you are making of me." Roy Croft
"The future for me is already a thing of the past. You were my first love and you will be my last" Bob Dylan
"Love is the emblem of eternity: it confounds all notion of time: effaces all memory of a beginning, all fear of an end." Germaine De Stael
You are my strength and my weakness at the same time. My life has been complete with you by my side. Will you marry me and make this madness we have for each other official?
"The minute I heard my first love story, I started looking for you, not knowing how blind that was. Lovers don't finally meet somewhere. They're in each other all along." Maulana Jalaluddin Rumi
"You are the finest, loveliest, tenderest, and most beautiful person I have ever known and even that is an understatement." Scott Fitzgerald
---
I hope you like these best proposal messages we collected from a variety of sources available on the internet for a special day. Share your favorite quote below in the comment section.