Best destiny quotes and sayings with beautiful images, captions, and pictures. Read these inspirational destiny quotes that will enlighten you.
Do you know what is destiny? Your decisions determine your destiny. it's directly connected with your life. It's called the events of a particular person that must happen in the future, mystical and unclear.
May these quotes about destiny help you to understand destiny and fate. Explore our collection of destiny quotes about life, success, and love.
DESTINY QUOTES [2022]
"Your destiny is determined by the choices you make. Choose now, choose well." – Tony Robbins
"Disappointments were not meant to destroy you. They were meant to strengthen you and give your fortitude to accomplish your destiny." – Joel Osteen
"Control your own destiny or someone else will." – Jack Welch
"Some journeys take us far from home. Some adventures lead us to our destiny."
"Decisions. Determine. Destiny."
"When you fight to cling to people who are no longer meant to be in your life, you delay your destiny. Let them Go."
"You should trust the next chapter of your life because you know the author."
"Destiny is no matter of chance. It is a matter of choice not a thing to be waited for; it is a thing to be achieved."
"Destiny is no matter of chance. It is a matter of choice."
"The willing, Destiny guides them. The unwilling, Destiny drags them." – Seneca
"Death is destiny. It has to be so because it is the origin – you come from death and you go to death. Life is just a moment between two nothingness, just a flight of a bird between two states of non – being." – Osho
"Don't downgrade your dream just to fit your reality. Upgrade your conviction to match your destiny." – John Assaraf
"Dare to live the life you dreamed of. Don't let fear decide your destiny."
"A person often meets his destiny on the road he took to avoid it." – Jean de la Fontaine
"What the heart is attracted to, is your destiny."
"I don't understand why destiny would let us meet, knowing that we could never be together."
"People linked by destiny will always find each other." – Visenna
DESTINY QUOTES ON SUCCESS
Success matters a lot in our life these success destiny quotes help you to inspire.
"Success must begin in your mind, but you're also charged with taking action because you are the sole architect of your destiny." – Daniel Milstein
"The whole secret of a successful life is to find out what is one's destiny to do, and then do it." – Henry Ford
"Tenacious people don't rely on luck, fate, or destiny for their success. And when conditions become difficult, they keep working." – John C. Maxwell
"Success is my destiny." – Erum Gul
"Success focuses on the six D's: Desire, Determination, Discipline, Devotion, Dedication, and destiny."
"God-given dreams of destiny and success will empower us to conquer our mistakes and nightmares of the past." – Barbie Breathitt
"Success is a product of perseverance in failure, repetition of effort and determination of destiny." – Disciple Kap Sian
"Success is the potential destiny of all created things." – Myles Munroe
"Now is your time. Make excellence your goal. Let success be your destiny." – Mark LaMoure
"Destiny fixed, success near, not yet decided, success is far." – Sangini Kesarwani
"Success is the result of good judgment, good judgment is a result of experience, and experience is often the result of bad judgment."
"Your thoughts will drive your results, your success and even your destiny." – Billy Cox
"Success woke me up, motivation made me breakfast, Destiny gave me my agenda and the Lord gave me his blessings."
"The greater the destiny, the greater obstacles you'll have to overcome. No great destiny comes without great challenges and sacrifices." – Jeanette Coron
LOVE DESTINY QUOTES
Read and share these below love and destiny quotes.
"Be very cautious about your object of love because that is going to decide your destiny." – Osho
"One love, one heart, one destiny." – Bob Marley
"The more you claim your own destiny, the easier it will be to love unconditionally." – Martha Beck
"Love is our true destiny. We do not find the meaning of life by ourselves alone – we find it with another." – Thomas Merton
"Love is our true destiny." – Thomas Merton
"You don't meet people by accident. There's always a reason. A lesson or a blessing."
"But how will I know it's my destiny?' 'Like love, it will possess you… You can't help but know." – Gali Tsukiyama
"If destiny comes to help you, Love will come to meet you. A life without love isn't a life." – Rumi
"She believes in love, in destiny and she knows she feels her prince in her destiny. She just has to wait for the right time." – Awwthentic
"It is not the stars to hold our destiny but in ourselves." – Apple Symbols
"I'm pretty sure I didn't meet you just for nothing."
"Letting go means coming to the realization that some people are a part of your history, but not part of your destiny."
"Every time I see you I'm more convinced we belong together."
"Our problems are man-made, therefore they may be solved by man. And man can be as big as he wants. No problem of human destiny is beyond human beings." — John F. Kennedy
"We are not creatures of circumstance; we are creators of circumstance." — Benjamin Disraeli
"My goal was, and still is, to write first, direct my own stuff whenever possible and control my own creative destiny." – Jeff Probst
"Whatever you are looking for is looking for you too."
DESTINY QUOTES ON LIFE
---
"We are born in one day and die in one day. We can change in one day. And we can fall in love in one day. Anything can happen in just one day." – Gayle Forman
"God's destiny for your life is better than any plan you'll ever come up with."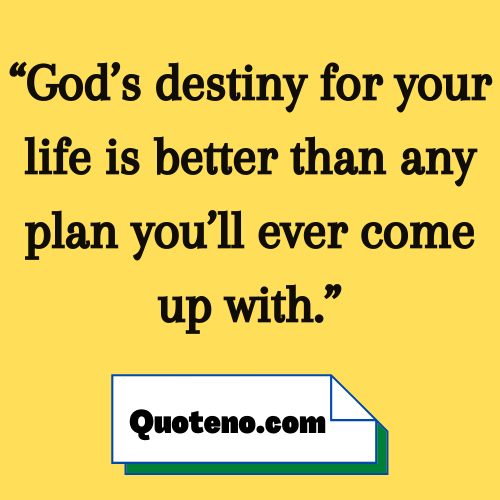 "With your hands carve out your own destiny." – Guru Nanak
"You have two choices: You can make a living, or you can design a life." – Jim Rohn
"Life's too short to spend it trying to keep others happy. You can't please everyone. To fulfill your destiny, stay true to your heart." — Joel Osteen
"Commitment is that turning point in your life when you seize the moment to alter your destiny." — Denis Waitley
"Life by the yard is hard; by the inch, it's a cinch. Decisions Determine Destiny." — Thomas S. Monso
"The minute you choose to do what you really want to do, it's a different kind of life." – Buckminster Fuller
"Don't let your history interfere with your destiny." – Steve Maraboli
"Destiny is the push of your instincts to the pull of our purpose." – T.D. Jakes
"Love is our true destiny. We do not find the meaning of life by ourselves alone – we find it with another." – Thomas Merton
"Life is not like water. Things in life don't necessarily flow over the shortest possible route." – Haruki Murakami
"Destiny is what you are supposed to do in life. Fate is what kicks you in the ass to make you do it." – Henry Miller
MANIFEST DESTINY QUOTES
"What you think, you create. you feel you attract. What you imagine, you become."
"To manifest your desires, give them three things: Attention, Intent, and Emotion."
"When you visualize, then you materialize. If you've been there in the mind, you'll go there in the body." – Dr. Dennis Waitley
"Expect to manifest everything that you want to manifest."
"The Bhagavad Gita says that It is better to live your own destiny imperfectly than to live an imitation of somebody else's life with perfection." – Elizabeth Gilbert
"Teach your brain to manifest your destiny."
"Revive your light. Manifest your dreams. Realize your worth."
"When you absolutely throw yourself into your activity, your energy will only grow."
---
I hope you like these meaningful inspirational quotes on destiny. Share your best quote from the above collection below in the comment section.