Priority quotes and sayings with images. After reading these best quotes on the priority you will rethink your life purpose.
Priority is that we can do something that is very important before other things. Share these quotes on priorities with your family members, friends, and loved ones.
After knowing your priority you can reach your goal or milestone rapidly and be successful with it. Time is money, time flies fast, set your most important things first, and take action on that. These quotes about priorities might help you to take your decision to achieve your goals.
Sometimes priorities lose focus it is an honest insight into life. May these quotes about priority encourage you to prioritize success over moderation so that you can live your dreams.
PRIORITY QUOTES
---
"To change your life, you need to change your priorities." Mark Twain
"Priorities over conveniences." Jatin Neha
"Good things happen when you set your priorities straight." Scott Caan
"Think of your priorities, not in terms of what activities you do, but when you do them. Timing is everything." Dan Millman
"Schedule your priorities." Stephen Covey
"I'm starting to judge success by the time I have for myself, the time I spend with family and friends. My priorities aren't amending – they're shifting." Brendan Fraser
"Your decisions reveal your priorities." Jeff Van Gundy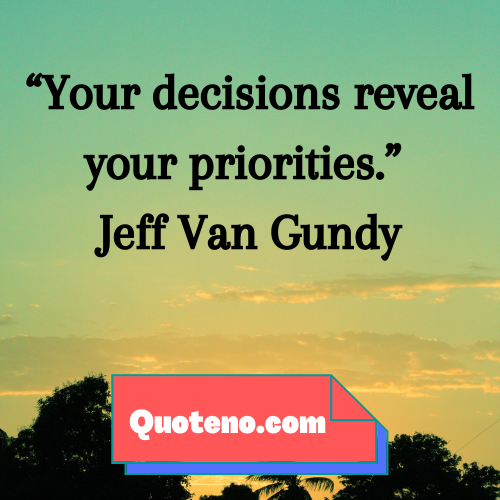 "Like it or not, the world evolves, priorities change and so do you." Marilu Henner
"The first step to success is knowing your priorities." Aspesh
"Be ambitious. Get things done. Keep your priorities straight, your mind right, and your head up." Anonymous
"Want to be successful? Change your priorities!" Himmilicious
"Time has a wonderful way of showing us what really matters." Margaret Peters
"Wise are those who learn that the bottom line doesn't always have to be their top priority." William Arthur Ward
"Sometimes things in life happen that allow us to understand our priorities very clearly." Mariska Hargitay
"If it's a priority you'll find a way. If it isn't, you'll find an excuse." Jim Rohn
"There is no one busy in this world, it's always about priorities. You will always find time for the things you feel are important." Nishan Panwar
"Often in life, we forget the things we should remember, and remember the things we should forget." Anonymous
---
Priority vs Option Quotes
"You're not an option, you're my priority." – unknown
"A real man makes his lady feel like a priority, not an option."
"Make yourself a priority." Anonymous
"Determine your priorities and focus on them." Eileen McDargh
"You always have time for things you put first." Anonymous
"In all planning, you make a list and you set priorities." Alan Lakein
"Your priorities are your character." Anonymous
"When you have too many top priorities, you effectively have no top priorities." Stephen Covey
"What you prioritize defines your life." BossBabe
"Let us reflect on what is true of value in life, what gives meaning to our lives, and set our priorities on the basis of that." Dalai Lama
"Priorities will tell you everything you need to know about the only person ." Anonymous 
"Instead of saying "I don't have time" try saying "it's not a priority," and see how that feels." Laura Vanderkam
"If you chase two rabbits, you will not catch either one." Russian Proverb
"Your priorities aren't what you say they are. They are revealed by how you live." Anonymous
"Action expresses priorities." Mahatma Gandhi
"Indeed, this life is a test. It is a test of many things – of our convictions and priorities, our faith and faithfulness, our patience and our resilience, and in the end, our ultimate desires." Sheri L. Dew
---
LOVE PRIORITY QUOTES
"As priority changes love changes." – Tashiya
"Love is family, support, priority, and understanding." – Gary Kemp
"Pisces give their relationship priority relative to other things." – unknown
"Love is a priority. True love is being a priority." – Ananya Aggarwal
"Happiness is not a priority for me. I prefer the dangers of being madly in love." – Paulo Coelho
"Love is my first priority, all others may vary." – J M Gharst
"All relationships go through hell, real relationships get through it." – unknown
"The right person will make you a priority." – unknown
"When priorities change replies get slower. Conversations get shorter situations are blamed."
"Make yourself a priority. At the end of the day, you're your longest commitment."
"Love is not who you can see yourself with. It is who you can't see yourself without."
---
RELATIONSHIP PRIORITY QUOTES
"No one is really busy. It all depends on what number you are on their priority list." – Unknown
"Time changes priorities, priority changes relationships." – Harish Kanan
"It's not about having time, it's about making time." – Unknown
"Priorities diverge relationships." – Wanderer
"Make your relationship your number one priority." – Lisa Ling
"Relationship gap starts when priority changes." – Unknown (Priority Quotes for Him)
"If it is important to you, you will find a way. If not, you'll find an excuse." – Unknown
---
Hope you like the priority quotes That Will Change Your Life For The Better. And told us your opinion on priority below in the comment.
Read Also: