Nothing Is Impossible Quotes with images (captions). If you also believe that nothing is impossible. Here are the everything is possible quotes and make it possible.
A successful person is never afraid of impossible situations. He works hard with determination, confidence, and courage to achieve his dreams. There are many personalities in the world who reached the top of the ladder with dedication and hard work.
If you do perfect planning. Brighten your thoughts and ideas. Learn how to achieve your goals.
There is no secret recipe to convert impossible to possible. Work hard, struggle, and try constantly until you achieve your aim. everything is possible nothing is impossible.
When you are in a struggle, read inspirational books and listen to experts' advice to recharge your mind and boost productivity. Remember one thing when God is with nothing is impossible.
Share these impossible is nothing quotes and sayings with your family members and friends, and on social media, or use them as wallpaper. you can use them as a WhatsApp status.
My favorite nothing's impossible quote is "Nothing is impossible for God." Cris Cyborg"
---
Best Nothing Is Impossible Quotes [2023]
"Nothing is impossible, the word itself says 'I'm possible!" – Audrey Hepburn
"The word impossible is not in my dictionary." — Napoleon Bonaparte.
"Impossible is only an issue of the mind." ― Edmond Mbiaka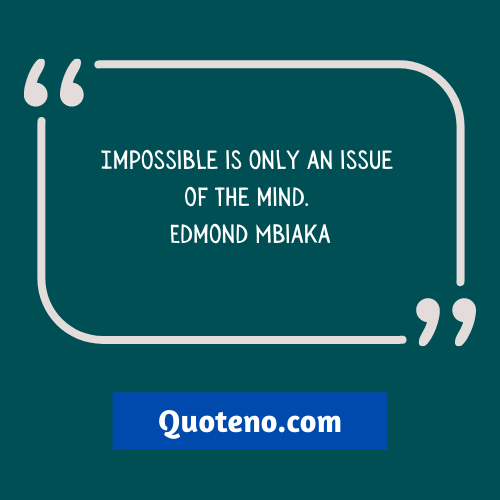 "There are many things that seem impossible only so long as one does not attempt them." ― André Gide
"It always seems impossible until it's done." —  Nelson Mandela.
"It is difficult to say what is impossible, for the dream of yesterday is the hope of today and the reality of tomorrow." Robert H. Goddard
"I can' certainly sounds better than 'I can't." ― Dr. Prem Jagyasi
"Dare to believe those good things are possible when you follow your heart." — Bryant H. McGill.
"Nothing is impossible. Some things are just less likely than others." Jonathan Winters
"Nothing is impossible".Walt Disney
"For it is only your thoughts that can decide the possible from the impossible." ― Ashwini Shenoy
"There is nothing impossible to him who will try." — Alexander the Great
"The only place where your dream becomes impossible is in your own thinking." Robert H. Schuller
"The Positive Thinker sees the Invisible, feels the intangible, and achieves the Impossible." Winston Churchill
"It is as impossible to find a perfect man as it is to find 100 percent pure gold." – Chinese wisdom
"Impossible is just a big word thrown around by small men who find it easier to live in the world they've been given than to explore the power they have to change it." -Muhammad Ali
---
Nothing Is Impossible Motivation

al

Quotes

"Impossible means that you just didn't do it yet." ― Frank Sonnenberg

"At first dreams seem impossible, then improbable, then inevitable." – Christopher reeve

"Virtually nothing is impossible in this world if you just put your mind to it and maintain a positive attitude." — Lou Holtz.

"If we are together nothing is impossible. If we are divided, all will fail." Winston Churchill

"Nothing is impossible to a willing heart." — John Heywood.

"There is only one thing that makes a dream impossible to achieve: the fear of failure." — Paulo Coelho.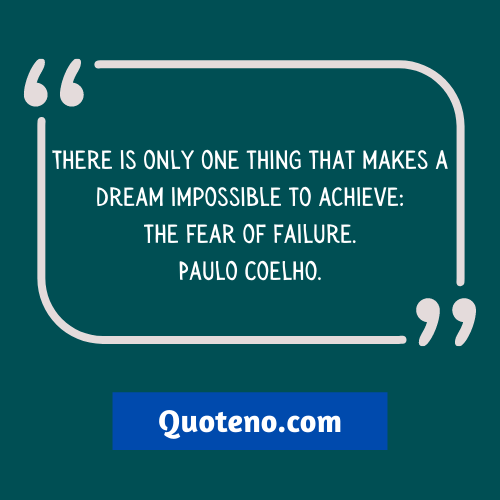 "The limits of the possible can only be defined by going beyond them into the impossible". — Arthur C. Clarke.
"For the believer, nothing is impossible. We put limitations on ourselves." Sasha Azevedo
"In life, nothing is impossible to achieve when you have enthusiasm, optimism, confidence, and commitment." Debasish Mridha
"Few things are impossible to diligence and skill. Great works are performed not by strength, but perseverance." – Samuel Johnson
"Never tell a young person that anything cannot be done. God may have been waiting centuries for someone ignorant enough of the impossible to do that very thing." – John Holmes
---
Believe in Yourself:
Nothing's Impossible Quotes

For Determination

"The difference between the impossible and the possible lies in a man's determination." — Tommy Lasorda.

"Success is determined by those who prove the impossible, possible." — James W. Pence.

"Faith is the first factor in a life devoted to service. Without it, nothing is possible. With it, nothing is impossible." Mary McLeod Bethune

"Impossible is just a big word that is thrown around by small men who find it easier to live in a world they've been given to explore the power they have, to change it. Impossible is not a fact. It is an opinion. Impossible is not a declaration. It is a dare. Impossible is potential. Impossible is temporary and it is nothing!" — Muhammad Ali.

"You must find the place inside yourself where nothing is impossible." Deepak Chopra

"Dreams taught me never to doubt myself, by letting me do the impossible." ― Michael Bassey Johnson

"In my case, I can sincerely say that nothing is impossible… When I was saying I want to be No. 1 in the world, and I was seven or eight years old, most people were laughing at me because it seems like I have one percent of chance to do that, and I'd done it." Novak Djokovic
---
Final Words
Remember one thing If God is with you no power demotivates you with God nothing is impossible. So Keep trying to make the possible until you succeed. Which is your favorite impossible quote from these famous quotes about nothing being impossible?