Best kodak black quotes and sayings with images. If you are a fan of kodak black, then these top kodak black quotes are also for you to share with others.
Bill Kahan Kapri, known as kodak black (stage name), is an American rapper-singer. He started rapping when he was in school.
Kodak has a very famous voice and was criticized a lot for using drugs and guns with girls and famous for his comments on different issues on social media.
We compiled the list of kodak black quotes, sayings, song lyrics, Instagram captions, loyalty, and more to inspire you in the big time of your life.
These quotes of kodak give you a boost if you are his fan. Use them in your WhatsApp status.
---
Best
Kodak Black Quotes [2023]
"You ain't even showing me the love you say you got for me." — Kodak Black
"I love African American women, but I just don't like my skin complexion."
"Once you start making money, everyone starts becoming your friend." — Kodak Black
"But I feel like I have enough knowledge to get me through life. Obviously, I don't know everything, but I feel like I have enough knowledge to get me through." — Kodak Black
"I just hope to continue to be blessed and want to be further than where I'm at today. I know I want to be in a better position than I am in today. Elevate to something bigger. Somebody bigger. Somebody better." Kodak Black
"You don't live my life, when you hear my songs you'll feel like you lived it. I don't get any lady cause these bitches never like to listen. —Kodak Black
"You told on your men, went to sing like you Whitney." —Kodak Black
"I'm a product of my environment. I grew up in the projects, I'm a project baby. All the project babies can relate to what I say, cause they're on the same thing. Were cut from the same cloth, you feel me? We went through the same struggle and all that shit. So, they're gonna feel me." —Kodak Black
"I just always be myself no matter who I'm around. —Kodak Black
"People just see the shine. They don't see the grind, the bags under my eyes. It was a lot of grinding, setbacks… I ain't finna let nothing stop me. Wherever I stop at, I already know who I am."― Kodak Black
---
Kodak Black Quotes About Loyalty
"Royalty can't buy loyalty." — Kodak Black
"There ain't no loyalty, you lied to me." — Kodak Black
"Loyalty Out Values Everything." – Kodak Black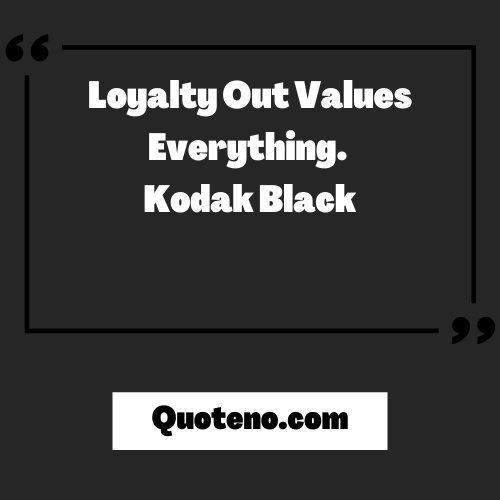 "I just know that I'm do something in life. I'm doing something productive." Kodak Black
"Life is a test and every day we got so many fails." – Kodak Black
"I knew I was going to be slugged up, my whole mouth gold." – Kodak Black
"Everybody wanna shine. Nobody wanna grind." – Kodak Black
"I just wanna live a blessed life. Whatever comes with it, you know? And whoever's supporting me, I appreciate it." – Kodak Black
"Thing end, people leave, but life goes on." – Kodak Black
"I used to listen to that song, 'I just wanna be successful!' I was like, 'I'ma be where bruh at.' I used to watch him on 'Degrassi.'" – Kodak Black
"Readin' through my third eye 'cause I got tunnel vision. Had to open my mind, then I opened a Benz." – Kodak Black
---
Kodak Black Quotes For Instagram
"Keep the feast, but get rid of the old yeast."
"I'm never really happy, smilin' when it's never meant."
"You measure a man on how tall he stands when his world starts to fall." – Kodak Black
"In the darkest hours, I gain sight."
"Cause a lot of these songs out here to envy me. It ain't no ho in the clique." – Kodak Black
"I got the type of voice where I can hit a tone if I want, but I ain't trying to be Fetty Wap or Future." – Kodak Black
"When I love I love too deep, I knew but I just didn't wanna accept that you were getting tired of me and den you left just like you said you wouldn't." – Kodak Black
"My complexion, we too gutter: light-skinned women are more sensitive." – Kodak Black
"Sipping on Hennessy, it got me bending sideways. Everything on me drippin', you ngs can't ride the wave." – Kodak Black
"While we walking, while we breathing, we dying… I will be really feeling like, even though we live to die, some people be dying to live." – Kodak Black
"So when I started rapping and all that I just said f**k it, I'm gonna be Kodak Black. Everything turned out the right way." – Kodak Black
---
Kodak Black Quotes About Life
"I'm tryna pull the roof back and live life, though."
"All of us got a due date. All of us got a death sentence. One day, we gonna die." – Kodak Black
"Pull up in a Demon, on God. Lookin' like I still do fraud." – Kodak Black
"Boss my life up, it wasn't nothin' else to do. You should try it too, you should run a trial too. I'm tryna make it out, you could be successful too." – Kodak Black
"Adults think it's disrespectful when you don't let them disrespect you." – Kodak Black
"Ain't nothin' worse than death. I don't see that. I just walk around, I got big wings . . . Why even let me come home?" – Kodak Black
"I was uploading on YouTube and stuff, and they were liking it or whatever and just kept elevating and elevating. I had little setbacks, but I used them as stepping stones."
"I'm better than Tupac and Biggie and say that so now you know where my head at." – Kodak Black
"I have a huge drive and was born with nothing. So I was always brought up like go get it. No matter what. Even if it's scoping and poking. Rapping and trapping. You know, I did it. I switched my whole grind up from doing that, from scoping and poking to just getting in a booth and just doing my thing." – Kodak Black
---
I hope you like the quotes by kodak.
Read Also :