Unlucky quotes and sayings with images. If you also feel you are unlucky in your life or in decisions. Read these unlucky quotes to fight against bad luck.
Unfortunately, sometimes your decision is not good and you feel you are unlucky. It's our mind thinking. Bad luck and good luck is a part of our life. if you work hard one day you beat your bad luck and you will be successful.
Below we compiled a list of wise, humorous, and inspirational old unlucky quotes, sayings, and proverbs from different sources available on the internet.
Share these unfortunate quotes with your family members, friends, and on social media, or use them in your WhatsApp status.
Unlucky Quotes
"Sometimes even in the most unfortunate of lives, there will occur a moment or two of good." – Daniel Handler
"It is unlucky to sound off about happiness." – Yi Ching
"Nobody gets justice. People only get good luck or bad luck." Orson Welles
"Sometimes you lose, sometimes you win, sometimes you are unlucky, but that's life." Jerome Boateng
"The most unlucky generation is the one that couldn't produce a hero to look up to." – Amit Kalantri
"The unfortunate is always egotistical." – Benjamin Disraeli
"It's extremely unlucky to be superstitious, for no other reason than it is always unlucky to be colossally stupid." – Stephen Fry
"The unfortunate do not pity the unfortunate." – Josh Billings
"I'm the luckiest unlucky person." – Tig Notaro
"My only feeling about superstition is that it's unlucky to be behind at the end of the game." – Duffy Daugherty
"It's unfortunate that in an interview sometimes things can seem so black and white." – Gisele Bundchen
"The unfortunate thing about worldliness is that its rewards are rather less than its appetites." – Phyllis Bottome
"It is the nature of the unfortunate to be spiteful and to envy those who are well to do." – Plautus
"How unfortunate, considering I have decided to loathe him for eternity." – Jane Austen
"The brave unfortunate is our best acquaintances." – Francis of Assisi
"Luck is what happens when preparation meets opportunity." Seneca the Younger
"God does not deem you to be lucky or unlucky… you're mindset does." Robert Kiyosaki
"Look at those they call unfortunate and at a closer view, you'll find many of them are unwise." – Andrew Young
"It is an unfortunate human failing that a full pocketbook often groans more loudly than an empty stomach." – Franklin D. Roosevelt
Unlucky Quotes In Life
"Life is an adventure of our own design intersected by fate and a series of lucky and unlucky accidents." Patti Smith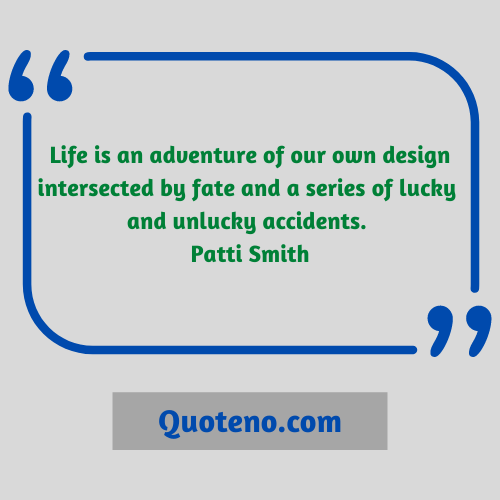 "Superstitions actually played a big role in my life. I wouldn't even go on a casting call if I had a hunch that it was an 'unlucky' day." Charlotte Rae
"Life for me is just a result of experiments being performed by far more developed creatures." ― Hasil Paudyal
"If you're unlucky enough not to have alcoholic parents, it takes you a whole lifetime of intoxication to overcome the dead weight of their virtues." – Emile M. Cioran
"The most unfortunate thing that happens to a person who fears failure is that he limits himself by becoming afraid to try anything new." – Leo Buscaglia
"But like so many unfortunate events in life, just because you don't understand it doesn't mean it isn't so." – Lemony Snicket
"Sometimes what might seem to be a series of unfortunate events may be the first steps of a beautiful journey." – Anonymous
"The only thing that overcomes hard luck is hard work." Harry Golden
Feeling Unlucky Quotes
"I'm an unlucky charm… don't go anywhere with me." – Sophie Turner
"There are very few bad people. There are just a lot of people that are unlucky." Betty Smith
"I've got just as much luck with locks as I do hearts. In other words, no luck at all." ― S.D. Lewandowski
"If lucky be not proud; if unlucky, do not despond." – Decimus Magnus Ausonius
"The unfortunate need people who will be kind to them; the prosperous need people to be kind to." – Aristotle
"I'm not a lucky person who makes radiant decisions which are obviously right." ― Iris Murdoch
"It's unfortunate, you know, that you can't change people's – habits, their personal habits."– Linda McMahon
"I'm one of those unlucky people who had a happy childhood." – Jonathan Coe
"Unfortunate. Unfortunate. Sometimes people struggling for freedom lose their way." – Jesse Jackson
"I'm not like other people, my life just doesn't work, it never has." ― Iris Murdoch
"How unfortunate is the guy who does not live in the extravagant memory of an infatuated young woman?" – Unknown
"It's always unfortunate when something gets misreported and the facts are not clear." – Roger Goodell
Unlucky Quotes In Love
"I'm kind of unlucky in love and I have, for some reason, always fallen for the straight guy." Calum Scott
"Finding someone to love for the rest of your life should be the easiest thing in the world. I guess the easiest things are the hardest for me." ― Julian Aguilar
"Oh, boy. I'm still in touch with about 90 percent of my exes. They would describe me as being unlucky in love." Nathan Fillion
"Unfortunate and wretched are those who have respected a book they did not love and hated those they did."
Milorad Pavić
---
I hope you like these bad luck quotes. Share your favorite quote in the comment section below.
Read also: frustration quotes