Tears quotes and sayings with images. Tears are a universal symbol. Since ancient times, philosophers and scientists have tried to explain emotional expression as a part of the common human language.
But, in fact, there is no point in shedding tears on yourself. Every person weeps or cries in his life openly or silently. Hope these quotes about tears will help you in your sad times.
We weep or cry in sorrow, grief, and mourning, but also in joy and laughter. Some people have been drawn to tears of pity from human suffering. Others have wept the angry tears of the oppressed.
Sometimes our eyes are filled with tears when we are happy or sad about anything. On that occasion, you can not control your tears.
Below is the collection of our wise, inspirational, and humorous old shedding tears quotes and sayings with images collected from different sources. Share with your friends, family members or use them as a WhatsApp, Facebook, Instagram status.
Tears Quotes [2022]
"A broken heart bleeds tears." ― Steve Maraboli
"The sorrow which has no vent in tears may make other organs weep." ― Henry Maudsley
"Heaven knows we need never be ashamed of our tears, for they are rain upon the blinding dust of the earth, overlying our hard hearts." ― Charles Dickens
"The soul would have no rainbow had the eyes no tears." ― John Vance Cheney
"Tears are God's gift to us. Our holy water. They heal us as they flow." ― Rita Schiano
"It is such a secret place, the land of tears." ― Antoine de Saint-Exupery
"Tears shed for another person are not a sign of weakness. They are a sign of a pure heart." ― Jose N. Harris
"We need never be ashamed of our tears." ― Charles Dickens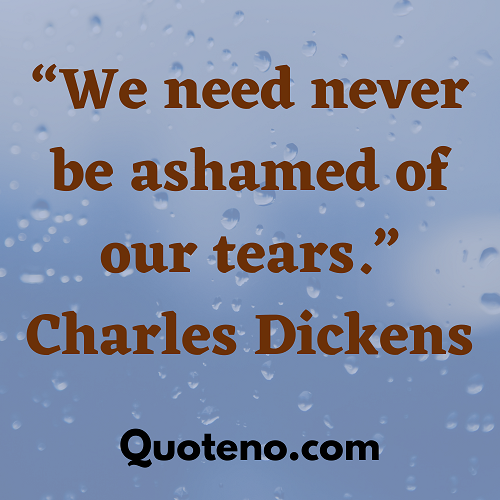 "Tears of joy are like the summer rain drops pierced by sunbeams." ― Hosea Ballou
"The soul would have no rainbow had the eyes no tears." ― John Vance Cheney
"Tears are the safety valve of the heart when too much pressure is laid on it." ― Albert Smith
"Tears are like rain. They loosen up our soil so we can grow in different directions." ― Virginia Casey
Quotes About Tears And Grief
"Tears are the silent language of grief." ― Voltaire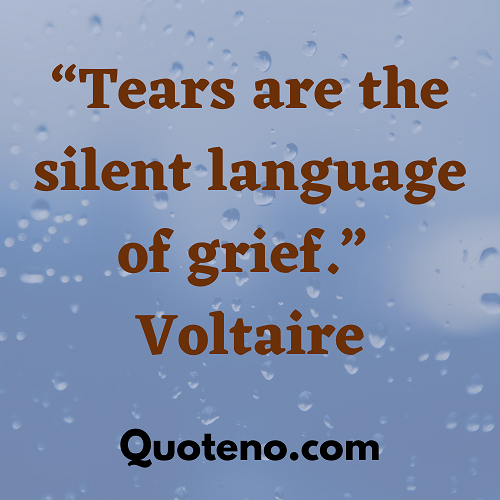 "More tears are shed over answered prayers than unanswered ones." ― Saint Teresa of Avila
"A tear dries quickly when it is shed for troubles of others." ― Marcus Tullius Cicero
"Tears are due to human misery. " ― Virgil
"Perhaps our eyes need to be washed by our tears once in a while so that we can see Life with a clearer view again. " ― Alex Tan
Happy Tears Quotes
"Tears are the summer showers to the soul. " ― Alfred Austin
"They that sow in tears shall reap in joy. "― Bible
"Tears are sometimes as weighty as words. " ― Ovid
"Words and tears are nature's most basic ways of helping us release our feelings of suffering. ― Hospice of Du Page
"Tears are the natural penalties of pleasure. It is a law that we should pay for all that we enjoy. ― William Gilmore Simms
"Heavy hearts, like heavy clouds in the sky, are best relieved by letting off a little water." ― Antoine Rivarol
"Invisible tears are the hardest to wipe away. Just let it out, my friend." ― Arabella Radici
"Tears come from the heart and not from the brain."― Leonardo da Vinci
"Sorrows humanize our race; tears are the showers that fertilize the world." ― Edward Bulwer-Lytton
"Tears shed for self are tears of weakness, but tears shed for others are a sign of strength. " ― Billy Graham
"What soap is for the body, tears are for the soul." ― Jewish Proverb
"Tears are often the telescope by which men see far into heaven." ― Henry Ward Beecher
"Repentant tears wash out the stain of guilt. ― Saint Aurelius Augustine
"Tears are the symbol of the inability of the soul to restrain its emotion and retain its self-command." ― Henri Frederic Amiel
"A teardrop on earth summons the King of heaven. ― Charles R. Swindoll
Trail of Tears Quotes
"The love of possession is a disease with them; they take tithes from the poor and weak to support the rich who rule. They claim this mother of ours, the Earth, for their own and fence their neighbors away."
-Sioux Chief Sitting Bull
"Build a fire under them, and when it gets hot enough, they'll move." -Andrew Jackson
"Half the infants, six months or a year, and all the aged over 60 had been killed directly, and one-fourth of the remainder. There seems to be no place, nor means, nor time for the recovery of any who are now sick."
-Cherokee missionary Daniel S. Butrick on the prison camps
"I could not but think that some fearful retribution would come upon us. The scene seemed to me like a distempered dream, or something worthy of the dark ages rather than a present reality."
-Lieutenant John W. Phelps, who assisted with the removal
---
Conclusion
Tears are common in every person to focus on your direction, not tears. don't need to cry in front of everyone to solve your matter with yourself.
Hope you like the collection of sad and happy tears quotes share your favorite tear quote in the comment section below.
Read Also: Expectations quotes