Unity quotes and sayings with beautiful images. We compiled the best collection of wise, inspirational, and humorous quotes on unity and diversity, and unity proverbs from different sources available on the internet.
Unity is very important in every work. The sad thing is the world is a divided place in the 21 century. We are divided from one another these days whether it is religiously, politically, in relationships, or in the workplace.
You can see that sports teams are victorious, friendships are strengthened, and Familial ties are restored when unity is their top priority. Inspirational leaders, motivational speakers, and thinkers tend to agree.
Sometimes you need to show unity in your married life or in a family to build a relationship. Anyhow how you aim for togetherness in your life, clearly makes the world a better place.
May these quotes about unity be sure to motivate you to make efforts for togetherness whenever possible. Share these unity power quotes with your friends, family, and social media, or use them as WhatsApp statuses to motivate others.
---
Best Unity Quotes
"There is no success without unity." – Ella Wheeler Wilcox
"Unity and victory are synonymous." Samora Machel
"We should always be looking for unity in things instead of differences." – Genesis P-Orridge
"Unity to be real must stand the severest strain without breaking." Mahatma Gandhi
"The significance which is in unity is an eternal wonder." Rabindranath Tagore
"United we stand, divided we fall." – Aesop
"No doubt, unity is something to be desired, to be striven for, but it cannot be willed by mere declarations." Theodore Bikel
"There is more power in unity than division." Emanuel Cleaver
"Where destruction is the motive, unity is dangerous." Ravi Zacharias
"He who experiences the unity of life sees his own Self in all beings, and all beings in his own self, and looks on everything with an impartial eye." – Buddha
"Not in numbers but in unity that our great strength lies." Thomas Paine
"You can't have unity without diversity." Richard Twiss
"Unity is vision; it must have been part of the process of learning to see." Henry Adams
"Even the weak become strong when they are united." – Friedrich von Schiller
"There is beauty and power in unity. We must be united in heart and mind. One world, one people." Lailah Gifty Akita
"Where there is unity there is always victory." Publilius Syrus
"You don't get unity by ignoring the questions that have to be faced." Jay Weatherill
"The strength of the Pack is the Wolf and the strength of the Wolf is the Pack." Rudyard Kipling
"All for one, and one for all." – Alexandre Dumas
"Remembering the conduct of each depends on the fate of all." Alexander The Great
"We cannot be separated in interest or divided in purpose. We stand together until the end." Woodrow T Wilson
---
Peace And Unity Quotes
"Only humility will lead us to unity, and unity will lead to peace." Mother Teresa
"A world of love ensuring unity and peace. We all will share prior to our arrival at heaven." – Liam Ó Comain
"Peace and friendship with all mankind is our wisest policy, and I wish we may be permitted to pursue it." – Thomas Jefferson
"Peace requires everyone to be in the circle – wholeness, inclusion." – Isabel Allende
"There can be no peace without unity." Bashar al-Assad
---
Family Unity Quotes
"The peoples of the earth are one family." – Ruth Benedict
"The golden way is to be friends with the world and to regard the whole human family as one." Mahatma Gandhi
"Bond is stronger than blood. The family grows stronger by bond." ― Itohan Eghide
"A day after the big day. The big day-long expected. The big day of reconciliation and unity among family/friends." – Odey-Agba Itite Emmanuel
"The strongest bond of human sympathy outside the family relation should be one uniting working people of all nations and tongues and kindreds." – Abraham Lincoln
"There can be hope only for a society that acts as one big family, not as many separate ones." – Anwar Sadat
---
Love And Unity Quotes
"Love is the cause of unity in all things." Aristotle
"Speak to me: I will spend my lifetime trying to understand you." ― Kamand Kojouri
"When you make the sacrifice in marriage, you're sacrificing not to each other but to unity in a relationship."
Joseph Campbell
"Even if a unity of faith is not possible, a unity of love is." – Hans Urs von Balthasar
"One love, one heart . . . Let's get together and feel all right" ― Bob Marley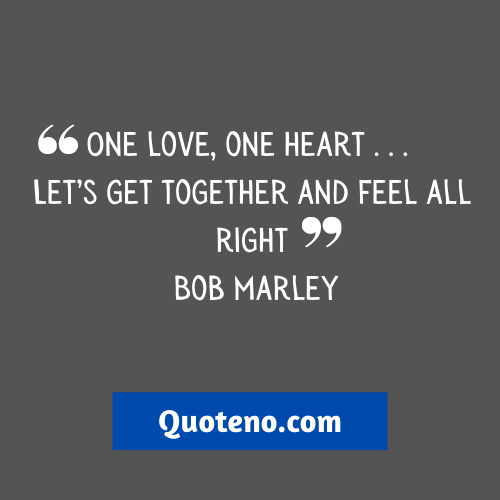 "Together, we form a necessary paradox; not a senseless contradiction." ― Criss Jami
"Each person you meet is an aspect of yourself, clamoring for love." – Eric Micha'el Leventhal
"What I'm not confused about is the world needing much more love, no hate, no prejudice, no bigotry, and more unity, peace, and understanding. Period." Stevie Wonder
---
if we realize this, we have great strength if we work together not against each other, after this, we know unity creates power.
Share your favorite quote in the comment section below.
Read also: Desire quotes