Suicide quotes and sayings to awareness and prevention from suicide. In the world, almost everyone gets depressed throughout life. Whether it's caused by mental illness, environmental stress, or the death of a family member, it's not easy to fix that but we do our best in an offer to help those that need it.
Unfortunately, many people get depressed as their life circumstances or mental illness then they consider suicide as an escape from their mental or emotional pain.
commit suicide quote. People who consider suicide don't want to die, they just don't know how to fight with the pain that they are going through. If you are going to suicide or someone you know, get assistance from a professional and learn prevention strategies for help.
Powerful Suicide Prevention Quotes and Sayings with images for those whose thinking of suicide. Below are inspirational Quotes about suicide that give us a message of living a healthy life. Because self-destruction is not good.
---
SUICIDE QUOTES
If we increase the pleasure in-person life who want to suicide then the possibility of suicide significantly decreases.
---
"Place your hand over your heart, can you feel it? That is called purpose. You're alive for a reason so don't ever give up." – Unknown
"If you want to show me that you really love me, don't say that you would die for me, instead stay alive for me." – Unknown
"Suicide doesn't solve your problems. It only makes them infinitely, un-countably worse." ― Sinead O'Connor
"When you feel like giving up, just remember the reason why you held on for so long." – Unknown
"Suicide doesn't end the chances of life getting worse, it eliminates the possibility of it ever getting any better." – Unknown
"If you are looking for a sign not to kill yourself, this is it." – Unknown
"Suicide is a permanent solution to a temporary problem." – Unknown
"The person who completes suicide dies once. Those left behind die a thousand deaths, trying to relive those terrible moments and understand … Why?" – Clark (2001)
"The bravest thing I ever did was continuing my life when I wanted to die." ― Juliette Lewis
"I'm trying to tell him what I'm about to do. I'm hoping he can save me, even though I realize he can't." ― Matthew Quick
"Suicide isn't cowardly. I'll tell you what's cowardly; mistreating people that they want to end their lives."― Ashley Purdy
"Should I kill myself, or have a cup of coffee?." ― Albert Camus
"They tell us that suicide is the greatest piece of cowardice… that suicide is wrong; when it is quite obvious that there is nothing in the world to which every man has a more unassailable title than to his own life and person." ― Arthur Schopenhauer
"Never never never give up." – Winston Churchill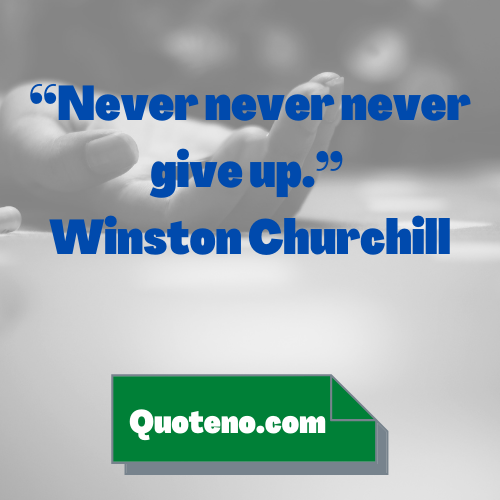 "We cannot tear out a single page of our life, but we can throw the whole book in the fire." ― George Sand
"Suicide is a permanent solution to a temporary problem." ― Phil Donahue
"The pain of depression is quite unimaginable to those who have not suffered it, and it kills in many instances because its anguish can no longer be borne. The prevention of many suicides will continue to be hindered until there is a general awareness of the nature of this pain." ― William Styron
"No matter what happens, or how bad it seems today, life does go on, and it will be better tomorrow." ― Maya Angelou
But in the end, one needs more courage to live than to kill himself." ― Albert Camus
"Suicide is man's way of telling God, 'You can't fire me – I quit.'" ― Bill Maher
"Sun, I came to see you for the last time." ― Jean Racine
"Suicide does not end the chances of life getting worse. Suicide eliminates the possibility of it ever getting better."― Vic Fuentes
"Life is a bitch; you get used though, or you kill yourself. Either way, you're winning."― Ahmed Mostafa
"Happiness is not by chance, but by choice."― Jim Rohn
"Death smiles at us all, all a man can do is smile back. ― Marcus Aurelius
"That is what chills your spine when you read an account of a suicide: not the frail corpse hanging from the window bars but what happened inside that heart immediately before." ― Simone de Beauvoir
"The only serious question in life is whether to kill yourself or not."― Albert Camus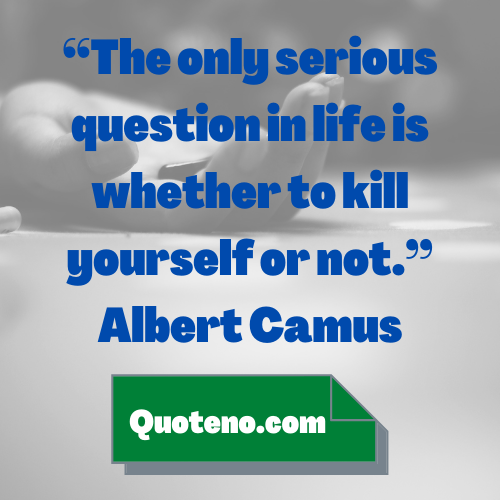 "The woman is perfected. Her dead Body wears the smile of accomplishment." ― Sylvia Plath
"The great thing about suicide is that it's not one of those things you have to do now or you lose your chance. I mean, you can always do it later."― Harvey Fierstein
"I felt in solitude so frightful that I contemplated suicide. What held me back was the idea that no one, absolutely no one, would be moved by my death, that I would be even more alone in death than in life." ― Jean-Paul Sartre
"I've given up already in life but something or someone keeps pushing me to keep going."― Jonathan Anthony Burkett
"You have a choice. Live or die. Every breath is a choice. Every minute is a choice. To be or not to be." ― Chuck Palahniuk
"Suicide only really frightens those who are never tempted by it and never will be, for its darkness only welcomes those who are predestined to it." ― Georges Bernanos
---
Commit Suicide Quotes
Some more commit suicide quotes are below. These inspirational suicide awareness quotes give you a new perspective.
---
"I want to commit suicide but am afraid someone will think I am crazy." ― Carl White
"The real reason for not committing suicide is because you always know how swell life gets again after the hell is over." – Ernest Hemingway
"People commit suicide for only one reason – to escape the torment." ― Li Ang
"Did you really want to die?" "No one commits suicide because they want to die." "Then why do they do it?" "Because they want to stop the pain." ― Tiffanie DeBartolo
---
Hope You like these inspirational famous commit suicide quotes. if you or any other person you know want to suicide don't do this it's a bad habit. make your life happy by finding happiness.
Read also: warrior quotes