Selfish quotes and sayings with images that will change your point of view. We have compiled the best selfishness quotes after reading you will surely inspire.
Everyone is selfish in the world where we live. If you are concerned about your advantages and disregard others around you are selfish.
You almost know selfishness is bad behavior. Sometimes it's ok to be a selfish person but it's not good every time and not acceptable every time. As the saying goes, if you want to live a happier life you should open yourself to others.
Hope after reading these selfish quotes you understand how being selfish affects other people around you.
---
SELFISH QUOTES
---
"To be happy, we must not be too concerned with others." ― Albert Camus
"It's good to be selfish. But not so self-centered that you never listen to other people." Hugh Hefner
"Selfish— a judgment readily passed by those who have never tested their own power of sacrifice." ― George Eliot
A focus on self-preservation is a choice for self-destruction." – Craig D. Lounsbrough
"Love is the most selfish of all the passions." ― Alexandre Dumas
"Nothing resembles selfishness more closely than self-respect" ― George Sand
"It is interesting how the selfish, the ignorant, and the constantly angry all tend to be the same person." – Wayne Gerard Trotman
"In order to be happy, one must first let go of all pettiness and selfish attachments." – Dee Waldeck
"Selfishness at the expense of others is bad. Self-care for the betterment of others is good." – Richie Norton
"Selfishness may result in one's sense of superiority, but life as such will surely deny them." – Eraldo Banovac
"The best weapon for selfishness is selfishness for the cause of others." – Enock Maregesi
"You can't be faulted for being selfish if you're going to get better because of it." – Jerry Lewis
"Selfish people try to keep or get things but they lose people." – Hannah Garrison
"When you work together in a creative way, you have to be less selfish about your ideas and learn to let both parties feel valued. Of course, that's also a really great quality to have in a relationship, too." – St. Lucia
"Sometimes in life, you have to make a selfish decision and do what's best for you." Saquon Barkley
"Let us try to teach generosity and altruism because we are born selfish." Richard Dawkins
"A man is called selfish not for pursuing his own good, but for neglecting his neighbor's." Richard Whately
"Everyone wants to help the world, but first and foremost everyone wants to help themselves." – Maria Karvouni
"

Sometimes you have to be selfish to be selfless.

" –

Edward Albert
"If you want to be a generous giver, you have to watch out for selfish takers." – Adam Grant
"Wisdom ceases to be wisdom when it becomes too proud to weep, too grave to laugh, and too selfish to seek other than itself." – Khalil Gibran
"You are too full of your own hopes to hold anyone else's." – Joe Abercrombie
"Everyone is the most important person in the world to themselves." – Mokokoma Mokhonoana
"We all of us need to be toppled off the throne of self. Perched up there the tears of others are never upon our own cheek." – Elizabeth Goudge
"It's not my job to make you happy. It's your job to learn that only those who quit selfishly seeking their own happiness find it." – Richelle E. Goodrich
"Just two choices on the shelf, pleasing God or pleasing self." – Ken Collier
"Selfishness is the most unattractive virtue a mortal can possess." – Suyasha Subedi
"Selfish persons are incapable of loving others, but they are not capable of loving themselves either." – Erich Fromm
"It's enough to indulge and to be selfish but true happiness is really when you start giving back." – Adrian Grenier
"Selfishness and greed, individual or national, cause most of our troubles." – Harry S. Truman
"Almost every sinful action ever committed can be traced back to a selfish motive. It is a trait we hate in other people but justify in ourselves." – Stephen Kendrick
"Intensely selfish people are always very decided as to what they wish. They do not waste their energies in considering the good of others." – Ouida
"Suppose you were the last one left? Suppose you did that to yourself?," – Cormac McCarthy
"If there is one thing I dislike, it is the man who tries to air his grievances when I wish to air mine." – P.G. Wodehouse
"No man is more cheated than the selfish man." – Henry Ward Beecher
"A man is nothing more than the things he does to get what he wants." – Hal Ackerman
"Better not to plant seeds of selfishness than try to eradicate them once they have grown into giant weeds." – Prem Prakash
"In an individual, selfishness uglifies the soul; for the human species, selfishness is extinction." – David Mitchell
"We all should rise, above the clouds of ignorance, narrowness, and selfishness." – Booker T. Washington
"Giving yourself some loving attention is not selfish. It is sensible. If you feel loved and cherished, even if it is only by yourself, then you will have more love to give to others, too." – Penelope Quest
"Glory, built on selfish principles, is shame and guilt." – William Cowper
"Selfishness is the greatest curse of the human race." – William E. Gladstone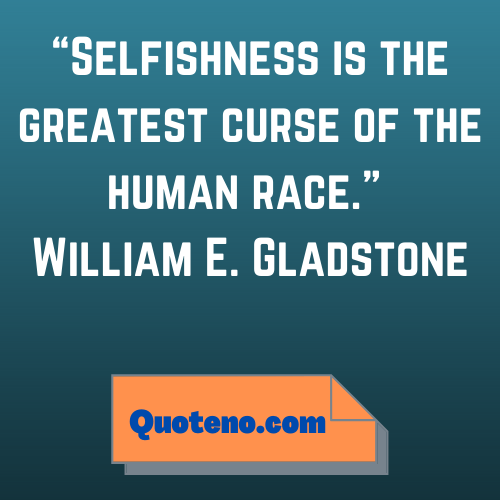 "Selfishness is not living as one wishes to live, it is asking others to live as one wishes to live." ― Oscar Wilde
---
Share your favorite quote below in the comment section.
Read also: no one cares quotes