Ron Swanson quotes and sayings with images. If you are a fan of the Swanson character then these Ron Swanson quotes to live by more integrity.
Ron Swanson (Ronald Ulysses Swanson) is a fictional character in the comedy television series Parks and Recreation on NBC portrayed by Nick Offerman.
Explore a hilarious and memorable collection of the Best Ron Swanson quotes about love, meat, salad, funny, and breakfast.
Share these Best parks and recreation Ron Swanson quotes on social media, Facebook, Twitter, and Instagram, or use them as a WhatsApp status.
Ron Swanson Quotes
"There are three acceptable haircuts: high and tight, crew cut, buzz cut."
"When people get a little too chummy with me, I like to call them by the wrong name to let them know I don't care about them.
"There are only three ways to motivate people: money, fear, and hunger."
Ron: "I suffer from a disorder called 'sleep fighting.'" Leslie: "That must be terrible." Ron: "Only when I'm losing."
"Is Star Wars the one with the little wizard boy?"
"Friends: one to three is sufficient."
"You choose a thankless job. You can't be upset when nobody thanks you. Don't start chasing applause and acclaim. That way lies madness."
"There is no wrong way to consume alcohol."
" Live your life how you want, but don't confuse drama with happiness."
"I like saying 'no.' It lowers their enthusiasm."
"If any of you need anything at all, too bad. Deal with your problems yourselves, like adults." — Ron Swanson quote
"America: The only country that matters. If you want to experience other 'cultures,' use an atlas or a ham radio."(ron swanson quotes about america)
"Great job, everyone. The reception will be held in each of our individual houses, alone."
"You've fallen into a classic trap, Christopher: trying to fix a woman's problems instead of just listening to what they are."
Ron Swanson Quotes About Meat
"You had me at 'Meat Tornado."
"If it doesn't have meat, it's a snack."
"Fishing is for sport only. Fish meat is practically a vegetable."
"You had me at 'Meat Tornado.'"
"Barbecues should be about one thing: good shared meat."
"When I eat, it is the food that is scary."
"Fishing relaxes me. It's like yoga, except I still get to kill something."
Ron Swanson Quotes Breakfast
Leslie: "Why would anybody ever eat anything besides breakfast food?"
Ron: "People are idiots, Leslie."
"Breakfast food can serve many purposes."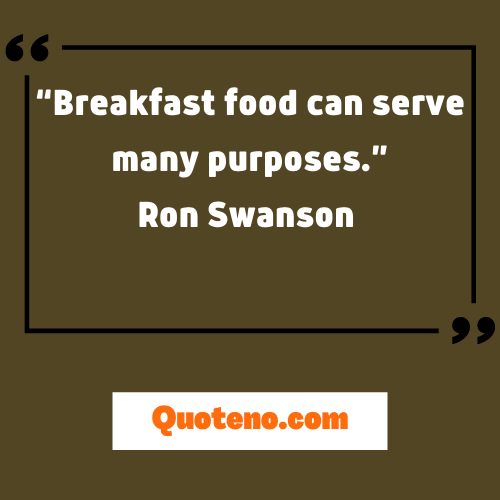 "I am submitting this menu from a Pawnee institution, J.J.'s Diner. Home of the world's best breakfast dish: The Four Horsemeals of the Eggporkalypse."
"I'm a simple man. I like pretty, dark-haired women and breakfast food."
"Wait. I worry what you just heard was, 'Give me a lot of bacon and eggs.' What I said was, 'Give me all the bacon and eggs you have.' Do you understand?"
"Strippers do nothing for me…but I will take a free breakfast buffet anytime, anyplace."
" There has never been a sadness that can't be cured by breakfast food."
Funny Ron Swanson Quotes
"Crying is acceptable at funerals and the Grand Canyon. Keep your tears in your eyes where they belong."
"A guy that shaves his beard probably shaves his V too."
"I can't go because I don't want to."
"Don't teach a man how to fish and feed yourself. He's a grown man and fishing is not that hard."
"Best of luck but I believe luck is a concept created by the weak to explain their failures."
"There has been a mistake. You've accidentally given me the food that my food eats."
"Dogs under 50 lbs are cats and cats are pointless."
"Body grooming: Only women shave beneath the neck."
"I once worked with a man for three years and never got to know his name. The best friend I ever had. We still never talk sometimes."
"Would I like some salad? Since I am not a rabbit, no. I do not." (Ron Swanson Quotes Salad)
Ron Swanson Quotes About Love
"The less I know about other people's affairs, the happier I am. I'm not interested in caring about people. I once worked with a guy for three years and never learned his name. The best friend I ever had. We still never talk sometimes."
"If you don't believe in love, what's the point of living?"
"I love being a father but there are a few things I miss: Silence. The absence of noise. One single moment undisturbed by the sounds of a children's program called Doc McStuffins. There is no quiet anymore. There is only Doc McStuffins."
---
I hope you enjoy the collection of quotes by Ron Swanson. Share your favorite quote in the comment section below to show your love for Swanson's character.
Read also: funny Confucius quotes