Quotes on child labour by famous people with images. If you are against child labour then these child labour quotes are for you to share on different platforms.
quotes on child labor by famous personalities. In the world, every country knows child labour is a crime. But in every country, there are millions of innocent children who are doing labor for a small amount.
We need to raise our voices against child labor by awareness or educating our children to secure the feature our children. June 12th is world day against child labor.
Below we compiled the best quotes on child labor from the different sources available on the internet. share these quotes about child labor on social media, like Facebook, Twitter, and Instagram, or use them as a WhatsApp status.
---
Quotes On Child Labour By Famous Personalities [2023]
"I dream of a world that is free of child labor, a world in which every child goes to school. A world in which every child gets his rights. Kailash Satyarthi
"A nation is illiterate and uneducated if a child is labored" ― Sir P.S. Jagadeesh Kumar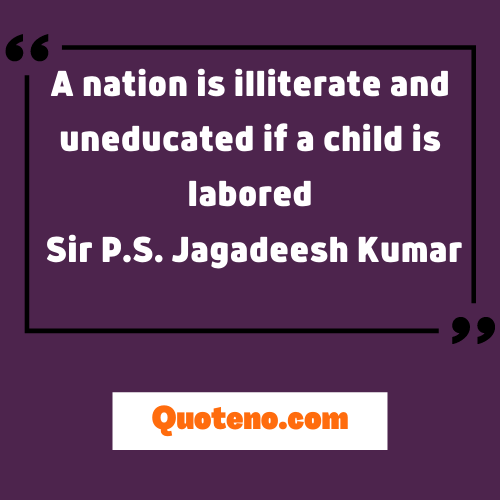 "It's a collective truth that slavery is wrong, that child labor is wrong, that gross inequality is wrong. God didn't send it." Dar Williams
"Why had his mother gone to the trouble of bringing him into the world if the most exciting moment in his life was having been made lame by a bayonet?" ― Félix J. Palma
"New legislation has just been adopted by the International Labour Organization on the Worst Forms of Child Labor, such as bonded labor, prostitution, and hazardous work." Carol Bellamy
"You can't regulate child labor. You can't regulate slavery. Some things are just wrong." Michael Moore
"Child labor and poverty are inevitably bound together, and if you continue to use the labor of children as the treatment for the social disease of poverty, you will have both poverty and child labor to the end of time." – Grace Abbott
It's estimated that there may be two hundred and fifty million children in the world engaged in some form of exploitative child labor. Carol Bellamy
"Child labor becomes a label of condemnation in spite of its ancient function as the quickest, most reliable way to human independence." John Taylor Gatto
"Democracy is supposed to be 'of the people, by the people, and for the people. Capitalism is 'of the capitalist, for the capitalist'. Period." ― Jerry Ash
---
Best Slogan On Child Labour For Instagram
"Child labor is against nature."
"Child labor is an illegal act."
"Some girls cannot go to school because of child labor and child trafficking." Malala Yousafzai
"Child labor is a violation, you should concentrate on education."
"Protect Child Development – Stop Child Labor."
"If we can't begin to agree on fundamentals, such as the elimination of the most abusive forms of child labor, then we really are not ready to march forward into the future." Alexis Herman
"After all, despite the economic advantage to firms that employed child labor, it was in the social interest, as a national policy, to abolish it – removing that advantage for all firms." Barry Commoner
"Although we have, in theory, abolished human slavery, recognized women's rights, and stopped child labor, we continue to enslave other species who, if we simply pay attention, show quite clearly that they experience parental love, pain, and the desire for freedom, just as we do." Ingrid Newkirk
"Buildings are built on big lands, work is done by tiny hands."
---
Child Labour Slogan For Child Labour Day
"There is no reason, there is no excuse – child labour is child abuse."
"Say yes to quality education against child labour violation."
"Child labour perpetuates poverty, unemployment, illiteracy, population growth, and other social problems."
"Stop child labour and save precious children."
"Twins work really well in the industry because child labor laws dictate a baby, for example, can only work for, like, an hour a day." Cole Sprouse
"Every time child labour is practiced, an innocent childhood has vanished."
---
I hope you like these child labor quotes. now raise your voice against child labor on every platform by using these labour slogans.
Read Also: