Desire quotes and sayings with beautiful images. We compiled the best collection of wise, inspirational, and humorous quotes on desire and dreams, and desire proverbs from different sources available on the internet.
Desire is a wish state of mind that is expressed by words like "longing", "wishing", "wanting" or "craving". A great variety of qualities is often associated with desires.
Our desired aim is to change the world while representing the world. Contrary to beliefs, there should be a world whose purpose is to represent the world. May these wings of desire quotes motivate you and you follow your desire to achieve the goals.
Share these quotes with your friends, family members, and on social media, or use them in your WhatsApp status.
Best Desire Quotes [2022]
"The intensity of your desire governs the power with which the force is directed." -John McDonald
"In order to succeed, your desire for success should be greater than your fear of failure." Bill Cosby
"Men go to far greater lengths to avoid what they fear than to obtain what they desire." ― Dan Brown
"Always desire to learn something useful." Sophocles
"Ultimately, it is the desire, not the desired, that we love." ― Friedrich Nietzsche
"Desire creates the power." -Raymond Holliwell
"Desire is a powerful force that can be used to make things happen." Marcia Wieder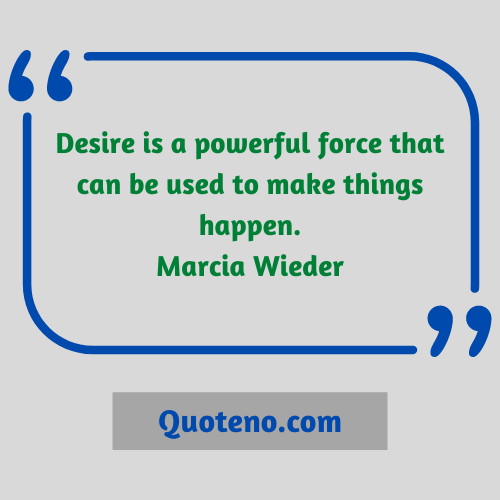 "When your desires are strong enough you will appear to possess superhuman powers to achieve." -Napoleon Hill
"Those who restrain desire do so because theirs is weak enough to be restrained." ― William Blake
"Desire is the absurdity that holds open the infinity of possibility." Wendy Farley
"Desire, like the atom, is explosive with creative force. " Paul Vernon Buser
"Profound desire, true desire is the desire to be close to someone." ― Paulo Coelho
"Where there is no power, there is never any desire to do a thing; and where there is strong desire to do a thing, the power to do it is strong." -Wallace D. Wattles
"Plant the seed of desire in your mind and it forms a nucleus with power to attract to itself everything needed for its fulfillment." Robert Collier
"So long as there is desire or want, it is a sure sign that there is imperfection. A perfect, free being cannot have any desire." Vivekananda
"Weak desires bring weak results, just as a small amount of fire makes a small amount of heat." Napoleon Hill
"If you greatly desire something, have the guts to stake everything on obtaining it." Brendan Francis
Burning Desire Quotes
"Desire is not a wish or a hope – it's a dynamic passion burning in the mind and heart. " – Dr. T.P.Chia
"To burn with desire and keep quiet about it is the greatest punishment we can bring on ourselves." ― Federico García Lorca
"A burning desire is the greatest motivator of every human action. The desire for success implants 'success consciousness' which, in turn, creates a vigorous and ever-increasing 'habit of success'." -Paul J. Meyer
"Desire is a possibility seeking expression." -Ralph Waldo Emerson
Love Desire Quotes
"When it comes to going after what you love in life, don't take no for an answer."
"Love is an irresistible desire to be irresistibly desired." Robert Frost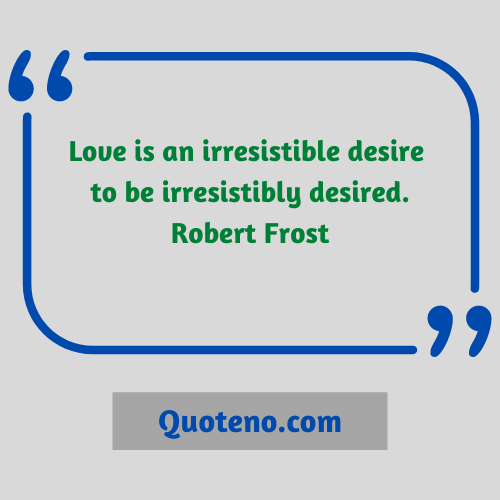 "When someone loves you, the way they talk about you is different. You feel safe and comfortable."― Jess C
"It sometimes seems that we have only to love a thing greatly to get it." -Robert Collier
"Love is often gentle, desire always a rage." – Mignon McLaughlin
"One must not lose desires. They are mighty stimulants to creativeness, to love, and to long life." Alexander A. Bogomoletz
"Life without love can hardly be called living. The same holds true when we abandon our heart's deep desires."
John Eldredge
"In every living thing, there is the desire for love." D. H. Lawrence
Hearts Desire Quotes
"There are two tragedies in life. One is to lose your heart's desire. The other is to gain it." George Bernard Shaw
"When you find your heart's desire, you'll have the key to unlocking your potential in every other part of your life."
Brian Tracy
"I got my heart's desire, and there my troubles began." ― Lev Grossman
"A desire to be observed, considered, esteemed, praised, beloved, and admired by his fellows is one of the earliest as well as the keenest dispositions discovered in the heart of man." John Adams
"How you handle your heart's desire will in great measure determine what becomes of your life." John Eldredge
"Life without love can hardly be called living. The same holds true when we abandon our heart's deep desires."
John Eldredge
"God is not opposed to desire. Far from it. He gave us a heart that desires deeply, and he uses those desires to draw us himself, and to the life, he created us to live." John Eldredge
Passion And Desire Quotes
"A strong passion for any object will ensure success, for the desire of the end will point out the means." -Henry Hazlitt ()
"Desire can lead us to the life we were meant to live. It can shape our hopes and dreams, fill them with passion and determination." John Eldredge
Desire is not a wish or a hope – it's a dynamic passion burning in the mind and heart. – Dr. T.P.Chia
---
Read also: Michael Jackson quotes