Famous cartoon quotes and sayings with images (pictures). If you are watching cartoons in your childhood then these cartoon character quotes from movies, and TV shows are for you.
You get motivation, and wisdom, and be inspired by your old and new cartoon characters through quotes. We reflect on our world through these symbolic stories of our life and Simply put, stories are metaphors for our lives.
Kids enjoy watching cartoons and learn moral values at the same time from their favorite characters. These animated movies are rich and vivid with beautiful characters offering us profound wisdom in the most precise ways.
Share these deep cartoon quotes with your friends, family members, and on social media also. You can use them as WhatsApp status to inspire others.
Best Inspirational Cartoon Quotes
"To laugh at yourself is to love yourself." – Mickey Mouse
"Scientists need to invent a way to make DNA work like in cartoons." ― Ryan North
"People have been murdered over cartoons. End of moral analysis." ― Sam Harris
"Not everyone can become a great artist, but a great artist can come from anywhere." – Anton Ego, Ratatouille
"If you want to be a cartoonist, live the life of a cartoonist." ― Oliver Gaspirtz
"The world isn't fair, Calvin."
"I know Dad, but why isn't it ever unfair in my favor?" ― Bill Watterson, The Essential Calvin, and Hobbes.
"Your identity is your most valuable possession. Protect it." – Elastigirl, The Incredibles
"I like physics, but I love cartoons." ― Stephen Hawking
"I'm only brave enough when I have to be. Being brave doesn't mean you go looking for trouble." – Mufasa
"Fairy tales can come true. You gotta make them happen, it all depends on you." – Tiana (Princess and the Frog)
"There are those who say fate is something beyond our command, that destiny is not our own. But I know better. Our fate lives within us. You only have to be brave enough to see it." – Merida
"Sometimes we have to go deep inside ourselves to solve our problems." – Patrick Star (SpongeBob SquarePants)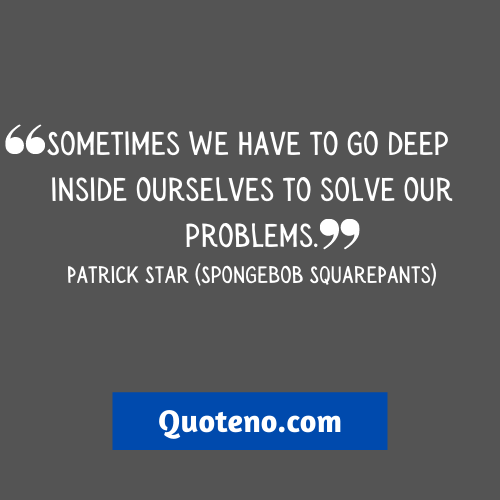 "If you work on something long enough you will find it, even if you are lost for a while you will find it." – Professor Bomba
"Friend something better than chocolate ice cream… maybe friend somebody you give up the last cookie for." – Cookie Monster (Sesame Street)
"They say the best blaze burns the brightest when the circumstances are at their worst." – Sophie (Howl's Moving Castle)
Cartoon Quotes About Life
"When life gets you down, do you want to know what you've got to do? Just keep swimming!" – Dory, 'Finding Nemo'.
"Sun and rain, so different. Yet, only by working together do they create harmony and life." – Fa Zhou, 'Mulan II'.
"When bad things happen, I know you want to believe they are a joke, but sometimes life is scary and dark. That is why we must find the light." – BMO (Adventure Time)
"It's real life. And in real life, you can't always win." – Gerald Johanssen (Hey Arnold!)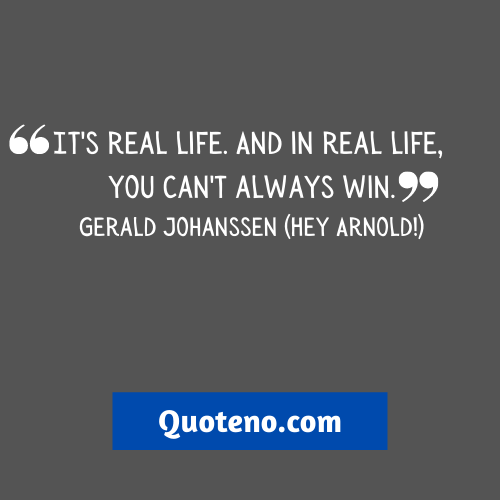 "Life doesn't give us a purpose. We give life purpose." – The Flash (DC Universe)
"As you go through life, you will see that there is so much that we don't understand. And the only thing we know is things don't always go the way we plan." – Simba, 'The Lion King'.
"I see now that the circumstances of one's birth are irrelevant, it is what you do with the gift of life that determines who you are." – Mewtwo (Pokemon)
Funny Cartoon Quotes
"People say nothing's impossible, but I do nothing every day."- Winni the Pooh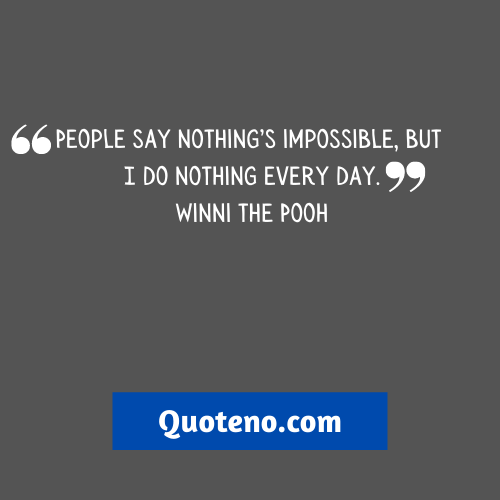 "I can tell you a million and a half things I have never heard of!"-Twister, Rocket Power
"I'm so cold, I can use my nose drippings as chopsticks."– Spongebob Squarepants
"Here, go buy yourself some more money." – Peter in Family Guy
"The most active thing about me is my imagination." – Garfield
"The gift of salvation set me free from all my sins." – Steven Universe
"If people were meant to pop out of bed we'd all sleep in toasters." –Garfield
"I'm beginning to think that maybe it's wrong to put someone who thinks they're a Vietnamese prostitute on a bull." – Stan in South Park
"I want to sleep but my brain won't stop talking to itself-" Garfield
"Don't do drugs kids. There is a time and place for everything. It's called college." – Chef in South Park
Funny Cartoon Quotes About Life
"That awkward moment when you finish watching a tv series and you don't know what to do with your life.That Awkward moment when the only thing you know on your test is your name and not even the date."
"People said to follow your dreams, so I went back to bed!"- Garfield
"My bed wasn't feeling well this morning, so I stayed home to take care of it."
"Don't do anything that affects anything. Unless it turns out you were supposed to do it, in which case for the love of God. Don't do it!" – Professor in Futurama
"Promise you won't forget me, ever. Not even when I'm a hundred." – Winnie the Pooh
"The very things that hold you down are going to lift you up".- Timothy mouse from dumbo
"Just because I dont care, doesn't mean I don't understand." -Homer Simpson
Cartoon Quotes for Instagram
"Venture outside your comfort zone. The rewards are worth it." – Rapunzel (Tangled)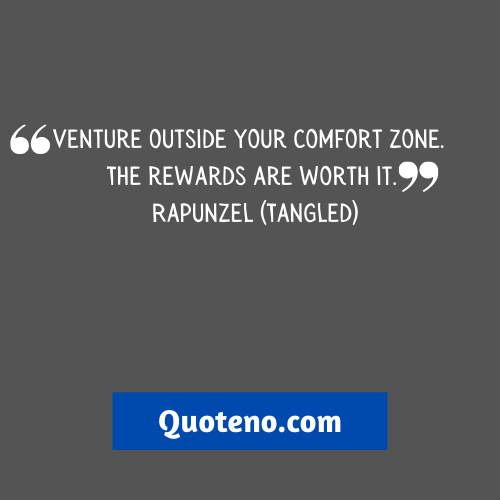 "Sometimes we have to go deep inside ourselves to solve our problems." – Patrick Star, 'SpongeBob SquarePants'.
"The things that make me different are the things that make me. – Winnie the Pooh (Winnie-the-Pooh)
Being in a relationship just for the sake of being in a relationship is plain crazy. You gotta let your heart lead the way." – Lois Foutley (As Told By Ginger)
"You're braver than you believe, stronger than you seem, and smarter than you think." – Christopher Robin, 'Winnie The Pooh'.
"Anything is possible when you have inner peace." – Master Shifu (Kung Fu Panda)
"Gary, you are going to finish your dessert, and you are going to like it!" – SpongeBob
"The future is worth it. All the pain. All the tears. The future is worth the fight." – Martian Manhunter (DC Universe)
"Do not be fooled by commonplace appearance. Like so many things, it is not what's outside, but what is inside that counts."  – Aladdin
"You and I are a team. There is nothing more important than our friendship." – Mike Danowski
"Yesterday is history, tomorrow is a mystery, and today is a gift… that's why they call it the present" – Master Oogway, 'Kung Fu Panda'.
---
Read also: unity quotes