Best archer quotes and sayings with images. If you watched the archer seasons then these archer quotes from the archer series are for you.
Archer is an American spy animated situation comedy for adults created by Adam reed. The show follows the feat of a dysfunctional intelligence agency led by Sterling Archer and seven of his colleagues under him.
Malory Archer played his mother's role and the show returned to its spy parody roots post eleven seasons.
---
Best Archer Quotes
"Lana, it's cashmere, there are rules." — Sterling Archer
"They say stress is the silent killer. But poison darts are also pretty damn quiet." ― Sterling Archer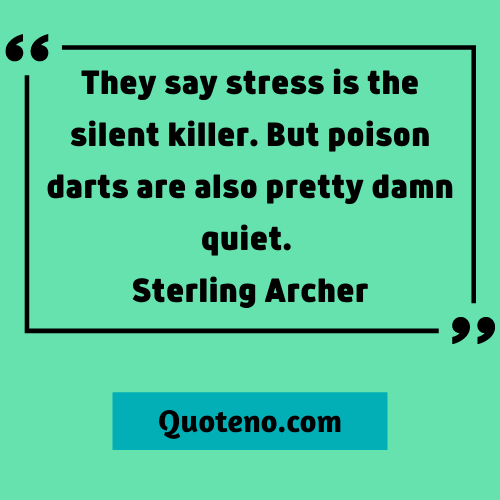 "Oh, I'm sorry. I guess I skipped the Emily Post chapter on how to introduce your mother to a hooker."
"For I am a sinner in the hands of an angry god; Bloody Mary full of vodka, blessed are you among cocktails; pray for me now, that the hour of my death, which I hope is soon. Amen." ― Sterling Archer
"No, it's not [a book] Lana. It's an allegorical novella about Stalinism by George Orwell, and spoiler alert, IT SUCKS." ― Sterling Archer
"I'm not saying I invented the turtleneck, but I was the first person to realize its potential as a tactical garment. The tactical turtleneck! The … turtleneck."
"A cutout is just a go-between, who goes between (I just got that) two intelligence agents." ― Sterling Archer
"If I stop drinking all at once, I'm afraid the cumulative hangover will kill me."
"Poison sucks. I'm" ― Sterling Archer
"Oh, and also, we're out of here, so tell your girlfriend to get her coat: I would, but I don't speak bridge-and-tunnel." ― Sterling Archer
"I've waited my entire life to say this exact phrase: 'I'm commandeering this airboat!'"
"Hey, proposition: first person to untie me—guy or gal—I will let him or her give me a handy. Come on, let's share the milk of human kindness!"
"Karate? The Dane Cook of martial arts?! No. ISIS agents use Krav Maga."
"I'll probably never be able to eat again without thinking about spaghetti and meatballs! Oh god… I could eat!"
---
Funniest Archer Quotes
"Look at that thing, it's like it's made of Wolverine's bones.. you know, cause they're.. does no one read X-men?!"
"Well I'm not Jewish, but I am circumcised, so I assume it can work the other way around."
"He touched my pe**s with his pe**s!"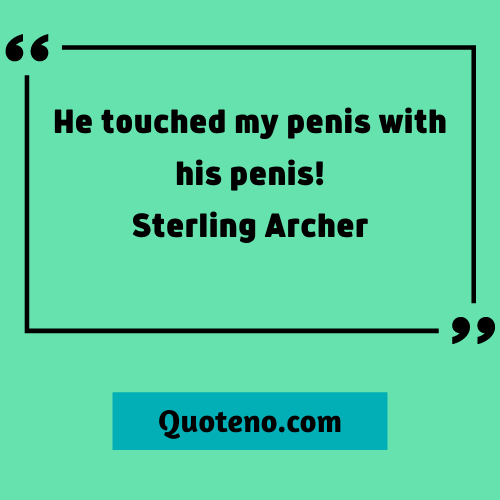 "Lana you and I, more me, were two of the best secret agents in the world."
"Only half of one! The other half would have really missed you… wait, no."
"What are you as in the only woman who can free her child from the mental prison that she's spent years erecting?."
---
Malory Archer Quotes
"Get your bloated carcass in here!" — Malory Archer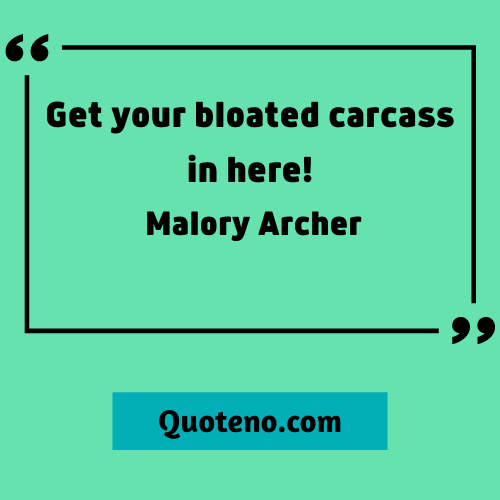 "None of you had any field experience when you first started. And you've given Cyril some training."
"Immigrants! That's how they do, you know. Just drive around listening to raps and shooting all the jobs."
"Oh, that's right. I kept it on the nightstand to wake nanny whenever Sterling wet the bed."
"Duly noted and disregarded. And I expect you to be totally convincing."
"ISIS isn't your own personal travel agency. It doesn't exist just so you can jet off to… Wh**e Island!"— Malory Archer
"Everyone shoots the chippy! That way, we're all in it together. Think of it as a team-building exercise."
"Yes, Pam, get me some poison, because I am already dead inside."
"How can you even think about happy hours at a time like this? [Malory takes a drink from a highball glass]."
"Who's there? What do you want? Because all you're going to get is holes. I, I mean holes in you, not my."
"Do you mind? I'm trying to parent! [shoots at Moto] That was for Pearl Harbor!."
"Oh! Oh! I cannot believe you! Are you out of your big, fat Russian skull? Of all the dumb stunts you – Nikolai, how could you do this?."
---
I hope you like these famous quotes from the archer seasons. Share your favorite quote in the comment section below and share on Facebook Twitter, and Instagram or use them as a WhatsApp status.
Read also: